}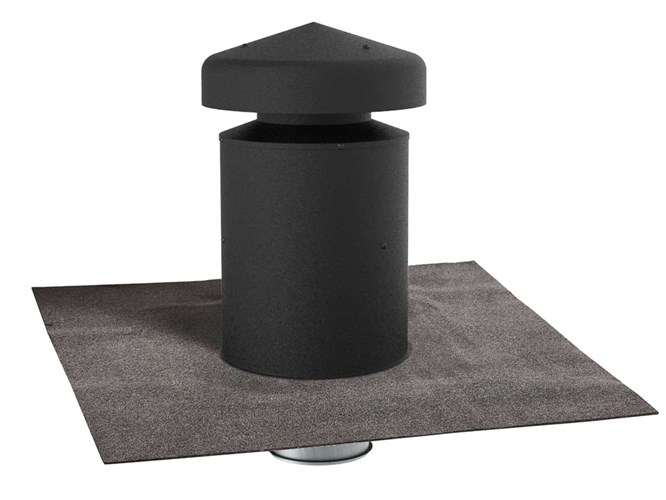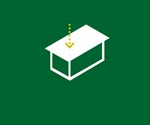 Flat roofs
UniVent ventilation cowls with roofing felt
UniVent for flat roofs in black, powder-coated aluminium and factory-mounted roofing felt (first layer) for mounting on roofs with roofing felt. Flexible roof pitch, 0–5°, to accommodate the roof incline. Dimensions: Ø125 mm or Ø160 mm. The units are available as insulated or as uninsulated with a condensation insert/collar. Slide-in pipe connector included.
The ventilation cowl is optimised against pressure drop and has undergone ventilation-system fireproofing testing pursuant to DS 428.
Technical data
Ventilation cowls: Aluminium-based components, black powder-coated RAL 9005.
Bottom flange: Stainless steel AISI 304, with integrated SBS (first layer) or APP modified bitumen.
The insulated product variants comply with the fire-safety requirements for insulation, cf. DS 428, and, on the basis of DS 428, fire-safety tests have been carried out on non-insulated product variants. These tests have demonstrated a good fire-safety resistance to a standard fire for up to 60 minutes (cf. DBi ISO 834).
The uninsulated product variants come with a condensation safeguard which reduces the risk of condensation forming due to moist ventilation air.
Product item overview
Ø125
First layer for flat roof
Condensation insert
9012500-101
Ø160 
First layer for flat roof
Condensation insert
9016000-101
Ø125 
First layer for flat roof
Insulated
9112500-101
Ø160
First layer for flat roof
Insulated
9116000-101
Ø200 
First layer for flat roof
Insulated
9120000-101
Call us and submit your order
You are always welcome to contact us to submit your order to have your questions answered. 

All the usual variants are delivered from the stocks of Brdr. Dahl, as part of the Altech product range.
Link to Brdr. Dahl's website