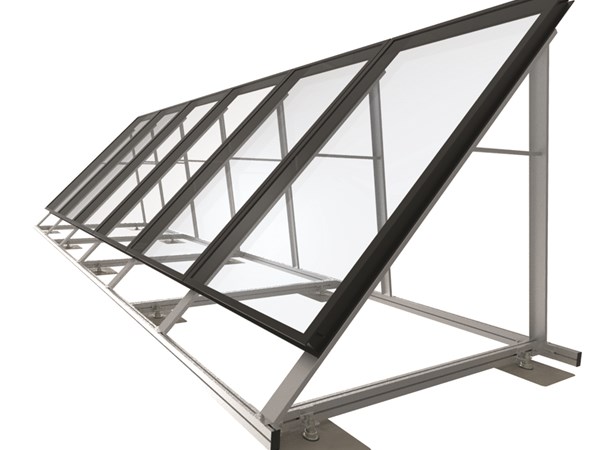 The respect for the design and layout of the roof surface is crucial for FIXNORDIC. It is important for us to maintain the original function and drainage capacity as well as avoiding pressure on the roof membrane and the insulation. That is why we have chosen to elevate the console system from the roof surface, so that it is only fastened to the roof by the 100% waterproof roof consoles.
Which roof type is relevant for the project?Depending on the roof type FIXNORDIC offers adapted solutions. Choose the roof type below that matches the current project.
TEKNISK DATA
The design of the solution is based on the FIXNORDIC console system and it has a remarkably high pull capacity thanks to the direct fixation in the construction of the building. This means, that the wind factor is no longer critical. The pull capacity is usually up to three times higher than required.
The clamped frame system on the roof brackets means that the forces are not only transferred directly into the roof construction, but also that the forces are transferred to several brackets at the same time. This is to accommodate the significant roof-parallel impact.
At FIXNORDIC we don´t just deliver a secure console- and fixation system with a 100% waterproof penetration in the roof membrane, but we also make sure, that our console systems can resist wind and and other types of weather, with our technical calculations, which have been made on the basis of the individual fixation solution. This means, that you as a customer at FIXNORDIC will get the best console system on the market as well as documentation on your specific system.
The FIXNORDIC console system is based on aerodynamic tests for wind resistance tested by RC Ruscheweyh Consult GmbH, as well as the snow load on the console system and the load on the roof construction for every single fixing point. All calculations have been made according to the calculation norms of EUROCODE for wind EN1991:1-4 and snow EN1991:1-3
YOU CAN ALSO CONTACT HENRIK
Henrik Jepsen can help and advice
you about our Console System for Thermal. 

+45 7683 1141


hen@fixnordic.dk